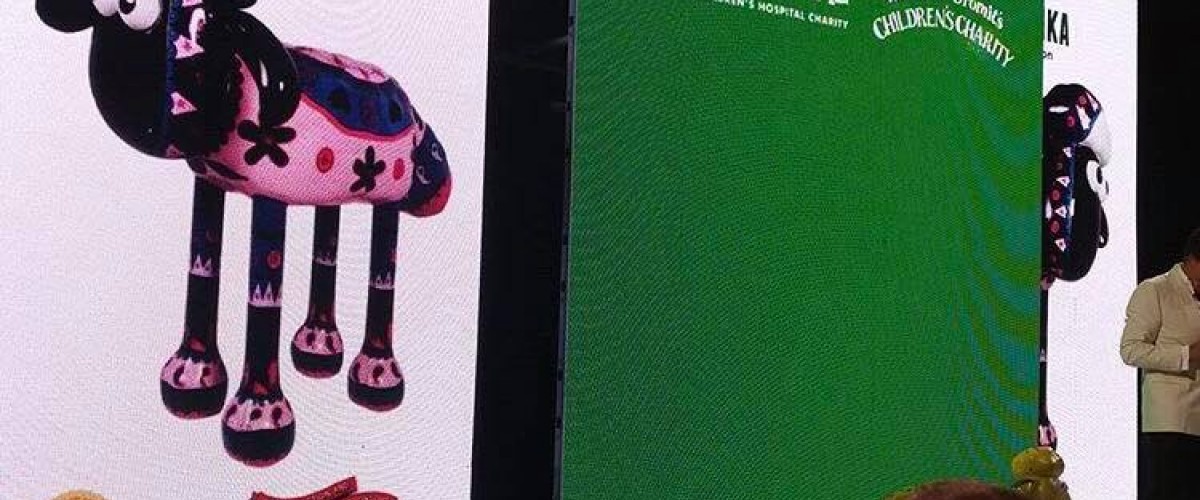 Last week I went to a charity auction, but this was not any charity auction, this was a charity auction raising money for sick children in hospital. Giant models of a well-loved children's animated character, Shaun the Sheep, were being sold to raise money and it just so happened that I had painted one.
Little me. An unknown eclectic artist from the Forest of Dean, had painted a huge sheep for the Shaun in the City art trail and, after an incredible year of tweets, facebook posts, Shaun selfies and general excitement, the time had come to see exactly how much this unknown eclectic artist could raise for charity, when her design Baa-bushka was auctioned.
The auction was held in a giant pavilion (or rather a posh marquee) at The Mall in Cribbs Causeway in Bristol. As a participating artist, I was ushered through the special 'artist's only' door, as opposed to the 'people who have loads of money' door. After grabbing my complimentary drink, I headed down to the front. There were quite a few Shauns dotted around the room, but I couldn't see my Baa-bushka. I sat three rows back and after chatting to a few fellow artists and potential buyers, the auction was officially opened and the acclaimed Sotheby's auctioneer Tim Wonnacott was introduced on stage. There were Shauns on the stage and it soon became apparent that these would change to suit the lot number. The first Shaun, 'Shaun on the Cob' was up and the bidding started at £5,000, then it went to £6,000, then £7,000 and up and up until the hammer came down at £20,000. Then, 'Star Bake', the gorgeous design by the talented guy who illustrates the bakes on 'A Great British Bake-off' was next. This sold for an impressive £16,000. And so the bidding went on. My lot was number 49, so there were quite a few to get through, but eventually, Baa-bushka was wheeled on the stage and lit via a spot light.
My biggest fear was that Tim Wonnacott would start the bid and there would be a deathly silence and a tumble weed moment. I would've died if he was left there with no bids at all. But fortunately, there was already an online bid of £5,000 placed, so somebody definitely wanted him. The bidding started and someone near the back offered £5,500, the internet bidder said £6,000, then the person in the audience said £6,500. I wanted them to keep going. I wanted Baa-bushka to raise more and more and more. But the hammer finally came down at £6,500 – a fabulous result nonetheless (and more than Cath Kidston's design, which I'm secretly pretty chuffed about!) Overall, the auction raised an amazing £1,087,900 for sick children in hospital, something I am hugely proud to have been part of.
I don't know who bought my Baa-bushka. I had no time to say goodbye or request visiting rights. The auction was the final chapter in a thoroughly momentous year and I hope Baa-bushka's new owners will have as much fun with him as I have. And, despite being a little sad that it's all over, I will always have my Baa-bushka figurine to admire and remind me of the totally amazing year it's been.