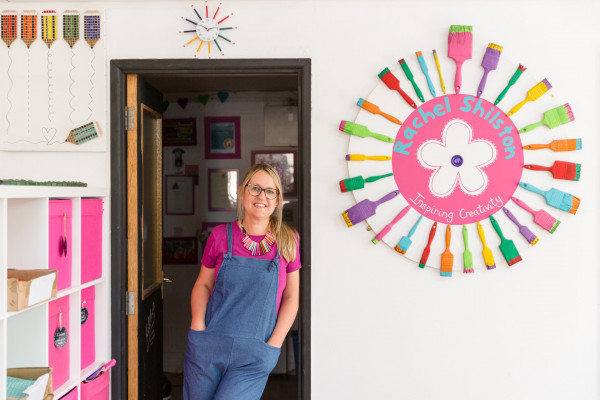 At Rachel Shilston - Inspiring Creativity, we know it's important to press pause and take time out, so our hands-on workshops and fun make-at-home kits are perfect activities to ensure you can engage in some vital creative downtime.
Hello I'm Rachel. The founder and business owner behind Rachel Shilston – Inspiring Creativity. I believe:
* Everyone can be creative.
* Creativity is just a muscle that needs to be exercised.
* Engaging in a creative activity has a positive impact on well-being.
* Creativity provides a wealth of transferable skills.
* Being creative is a totally enjoyable and fun social experience.
About me.
As a trained secondary school art teacher with 20 years' experience delivering creative projects, I strive to help people improve their wellbeing and quality of life, by making it easy, accessible and fun to get creative anywhere in the world.
With a passion for mosaic, there's so much I can do to show you and your friends how absorbing and enjoyable this colourful and tactile craft can be. Investing in yourself is important and focussing on something creative is so good for the soul. I know that mosaic is the perfect way to unwind for a couple of hours and by nurturing the bit of you that perhaps doesn't get much attention, I can guarantee you will feel empowered, fulfilled and happy.
Whether on a workshop or through one of my kits, I really hope to inspire your creativity soon.
Love Rachel x
Interesting things about us:
#1 We're based in the beautiful Forest of Dean in Gloucestershire.
#2 Rachel appeared on the Kirstie Allsop Handmade Christmas TV show in 2018 and has had seven designs on public art trails around the UK. Take a look at her Portfolio
#3 The mosaic bee kit is by far our best seller.
What we stand for:
Having Fun - We don't take ourselves too seriously and love to make the world smile.
Empowering Creativity – We help redefine people's perceptions of what it means to be creative.
Making Memories – Making a mosaic yes, but we also make memories within a warm, friendly and welcoming community.
What people say:
'Thanks for a lovely morning! I got home feeling much happier as a result of some "me time" so thank you.' Emily
'Would thoroughly recommend this workshop - it was excellent. I had a wonderful morning - thank you Rachel' Claire