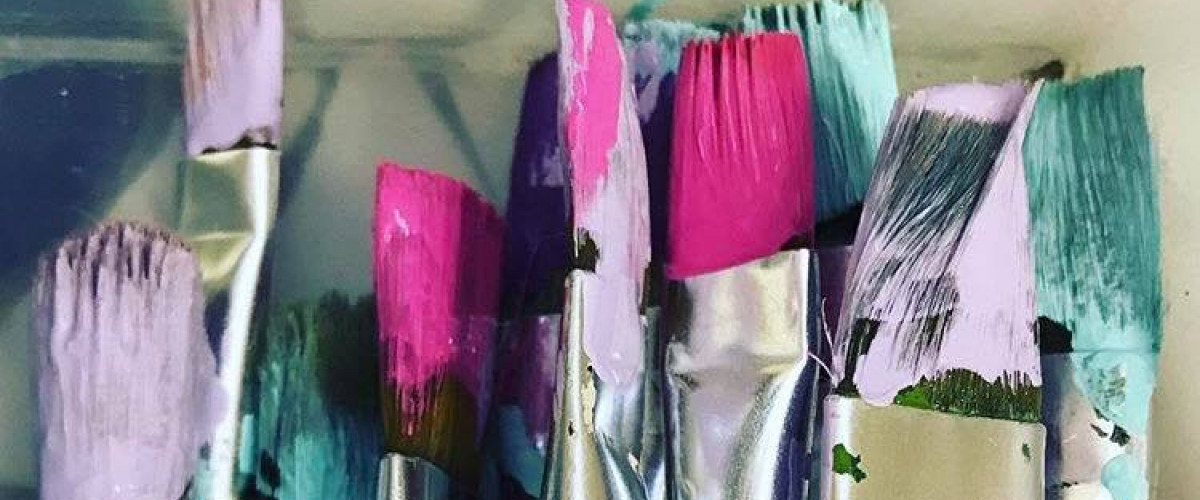 Back in January 2015 I joined CAP Business Club. This is a networking group made up of all sorts of businesses that meet for one hour a week, with the opportunity to listen to presentations, meet other businesses, make referrals and generally provide support for each other.
I was incredibly nervous about starting…. an artist, mixing with the likes of solicitors, engineers, mortgage advisors…even a personal fitness coach. Really? Was this an appropriate environment for little old me?
Despite my anxieties I went for a trial (it was a kind of 'taster' to see if I liked it and I think, more importantly, if the rest of the group liked me). So the deal is you arrive, make general chitter chatter and do a bit of networking, then the meeting is formally started by the host's gentle tap with a teaspoon on his teacup. (Although some weeks require more than a gentle tap on his teacup to be honest). At the beginning of every meeting, each person introduces themselves, their business and any help or advice they may need. On my first session, we started to go round the table and as it got closer to me, I was absolutely peeing my pants at the thought of doing this. Despite being at the ripe old age of forty three, I felt like the room was full of experienced grown-ups all with successful businesses who were looking at me, checking out my credentials. They all knew their stuff and sounded professional – how was I going to compete with that? (Lamb to the slaughter came to mind)
You see, how do you explain what you do, when you do what I do? It's quite a challenge to explain succinctly to a group of people you've never met before. After quite a flappy start and probably sounding like I had verbal diarrhoea, I got through it and came out of the other side relatively unscathed. It was actually really nice to be with like-minded people and I felt that belonging to the group would make a positive impact on my business. (And, if nothing else, it felt like I was having the staff meeting I don't get any more now that I'm self-employed). So, as nobody seemed put off by my waffling nor objected to me joining the group, I signed on the dotted line and became the newest member of CAP business club.
A few weeks passed and I did start to improve on my introduction delivery. I found out about a term called 'the elevator pitch' – a phrase given to a quick spiel that you would say about your business, should you find yourself sharing an elevator (or lift for us UK residents) with a business guru like Richard Branson, Bill Gates or one of those dragons . (Problem is, I always take the stairs as I hate lifts, so my opportunities of impressing Mr Branson with my amazing entrepreneur skills are probably pretty limited.)
Anyway, this hypothetical 'elevator pitch' situation did help me and I found myself sounding p-r-e-t-t-y convincing and quite the business woman as I practised on my own in the car driving to and from work. The thing was I needed to say it out loud to all those grown up people. I really wanted to use a word my husband said to describe his taste in music but the problem was I couldn't say it. I kept practising this word when I was in the shower, washing up, doing the school run but it just didn't roll off the tongue like when my husband said it. Undeterred, I decided to go for it and the following week at CAP, it came to my turn to introduce myself and I just took the proverbial bull by the horns and announced that I was Rachel Shilston and I was an 'electric artist'. Not quite what I had in mind for my fresh angle on my job description, but it did kind of break the ice and was quite amusing every week after that, introducing myself as 'that word that I can't say'.
So it's kind of stuck. The Eclectic Artist. When I can say it, (which is a bit hit and miss to be honest) I can't think of a better way to describe Rachel Shilston – Inspiring Creativity. A great way of summing up the diverse and variety of art projects I deliver to people of all ages and abilities, to adults, children, schools, organisations, parties, hens, corporate and festivals.
Oh and, as for the other members of CAP being big scary grown-ups, I soon discovered they're just a bunch of soft, lovable pussycats really