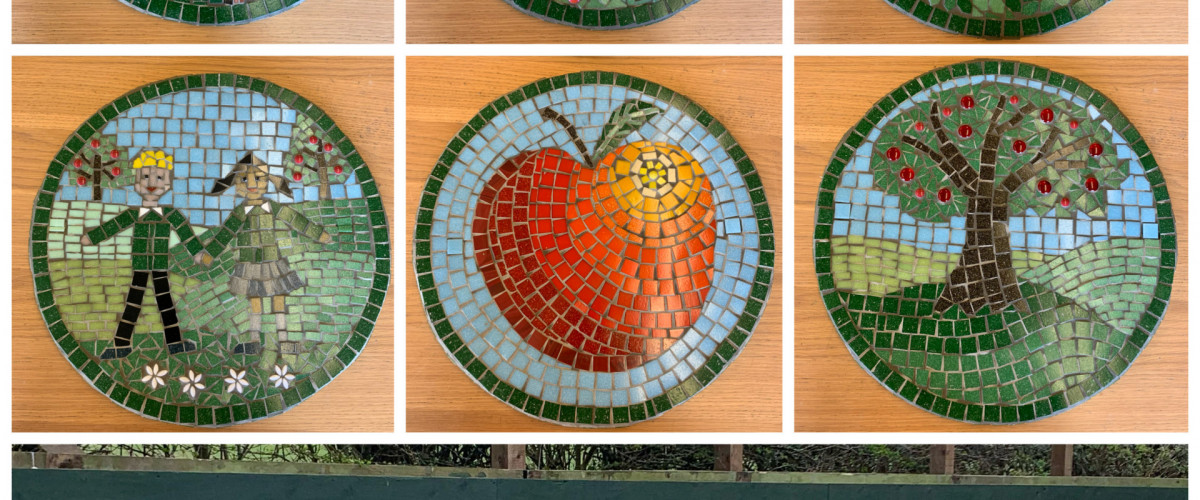 Like many businesses, Covid-19 has had a direct impact on Inspiring Creativity. My studio has been closed for longer than it's been open, workshops have either been cancelled or delivered online but, one of the big changes for me was primary schools only opening for key worker's children, which meant I was unable to deliver my usual whole-school, collaborative mosaic projects. During 2020, I did get around it by devising a self-led mosaic kit for schools which was popular, plus I created a project for one primary school to deliver themselves, but on the whole, my school work sadly dried up.
So, you can imagine my excitement this week at travelling to Hambridge Primary School in Somerset, to deliver a whole school mosaic project – my first one for eighteen months. Even this was a rearranged date from January's lockdown and I was beginning to wonder whether it would ever happen. But it did go ahead and I was so delighted to be back working in a school environment.
Normally, if the school is in easy travelling distance, I have a pre-project meeting with the Head Teacher, where we look at possible sites for the artwork and discuss the requirements, but that was difficult during lockdown, so on this occasion, it was all done via phone and photographs.
Hambridge Primary is a small school, with five classes and set in a beautiful rural location near Ilminster, surrounded by rolling hills and picturesque fields. The brief was to create a series of six mosaic circles that would depict key images relevant to the school. The classes are named after varieties of apples, (the area has lots of orchards nearby) so it was important to include an apple and apple tree in the designs. The school is currently just changing their logo to a Woodpecker, so that was also important to depict, plus the school also wanted to include the local flora and fauna too, so a badger, fox, owl and a garden was put in the designs. Finally, it was also decided to represent the school children in their emerald green uniform. Initially, the designs were intended for an interior wall but the plan changed and I was requested to make them with waterproof materials for an outside fence instead. I think this was a great decision as the pupils will be able to see them from all over the playground and it will create the effect of almost 'port holes' and the children can imagine they are looking out of little round windows. The imagery will also provide a great talking point and learning wall, especially for younger children who can name the animals and insects.
I arrived early on Monday morning to set up my makeshift studio, which was left in place for the entirety of my visit. I was based in the village hall on the school site and where the children have their lunch, the view from the window was just beautiful, which looked out over the fields and up to Burrow Hill in the distance. I worked with small groups of five or six at a time, with each group spending about twenty minutes with me, each adding a sizeable contribution to the artworks. I spent three and a half days there in total, working with every class and pupil in the school. I wore a visor and the children kept their distance, but all in all it was delivered in a covid secure manner and the project ran really smoothly. Now Paul, the lovely caretaker, will install the mosaics on Monday and I wish I could be there to witness the children's reactions when they see them in place for the first time.
It was just wonderful to back inspiring creativity in school, listening to the children talking about the project, excited to add 'their bit' and wanting to learn about the materials and process of making their special mosaic. What is also lovely is that it has brought everyone together in a positive way, making a project that will last for many years and has created a special mosaic memory of a difficult and challenging year in education.
If you would like to learn more about my school projects or would like to discuss your own school mosaic, then just get in touch. For further details on my previous projects, head to: