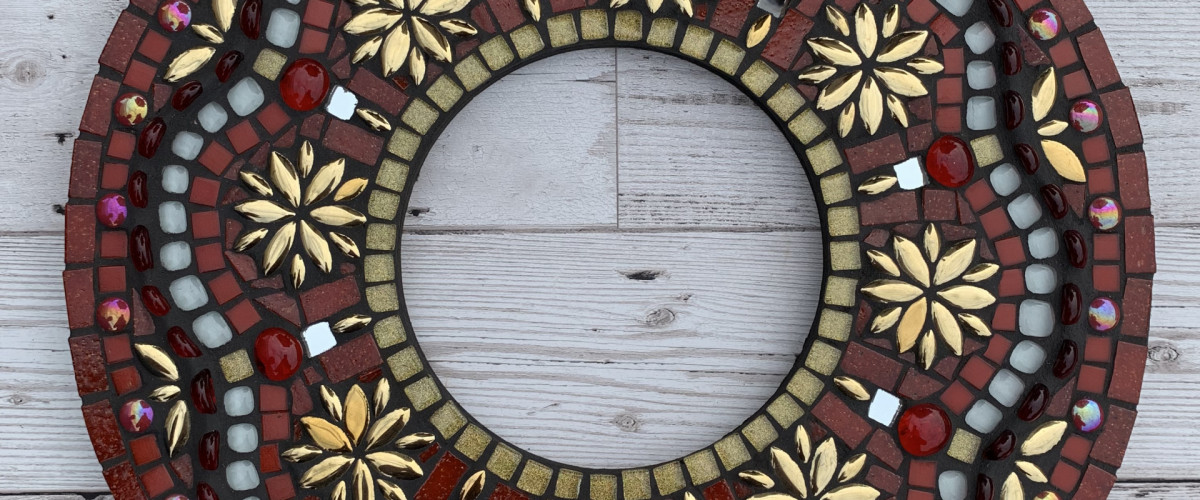 I can't quite believe that it's almost a year ago that I filmed my episode for the Kirstie Allsopp Handmade Christmas TV programme. I remember it like it was yesterday – it was a nerve-wracking, action-packed and completely fun day, filmed on the 5th of October in a gorgeously Christmassy location in Devon. If you missed the programme then I'm sure it will get repeated this year, but in the meantime, pop over to my blog 'As seen on TV' to read all the juicy details.
Anyway, following my appearance on that TV show, I was contacted by Janet and John, the owners of Mosaic Supplies, a company based in Stourport-on-Severn. They'd seen my mosaic wreath on the show and loved it. In fact, they loved it so much that they wondered whether I would like to recreate it as a mosaic kit for their company. How exciting!
So, in January I made the trip to meet Janet and John at their premises, to discuss the idea further. It was great to see some of the other kits they stock, plus all of the wonderful tesserae and tiles that they sell on their website. It was like stepping into an Aladdin's Cave - so many gorgeous treasures. I came away with lots of ideas and was keen to create a wreath that was a little bit different to the one I made on the TV show.
Over the summer, when it was hot and sunny (and I should've been thinking about ice cream), I was actually getting stuck into Christmas! Behind the scenes I was busy playing around with colours and textures, designing something that was festive but with an added bit of sparkle and glitz. After lots of tests and trials I came up with a design and submitted it to Janet and John for their approval. Thankfully, they were pleased and I'm delighted to say that my striking red and gold mosaic Christmas wreath designed 'exclusively' for Mosaic Supplies is now available – allowing you plenty of time to make it before December. And you can find it here!
The wreath design is constructed onto marine ply, so once completed, it can be hung on your front door as an alternative to the more traditional Christmas door décor. Alternatively, it looks equally fabulous placed on a table with candles in the centre, for an eye-catching festive display.
I really hope you like it. Let me know if you buy one and please send me a photo of it once you've made it – I'd love to see it!