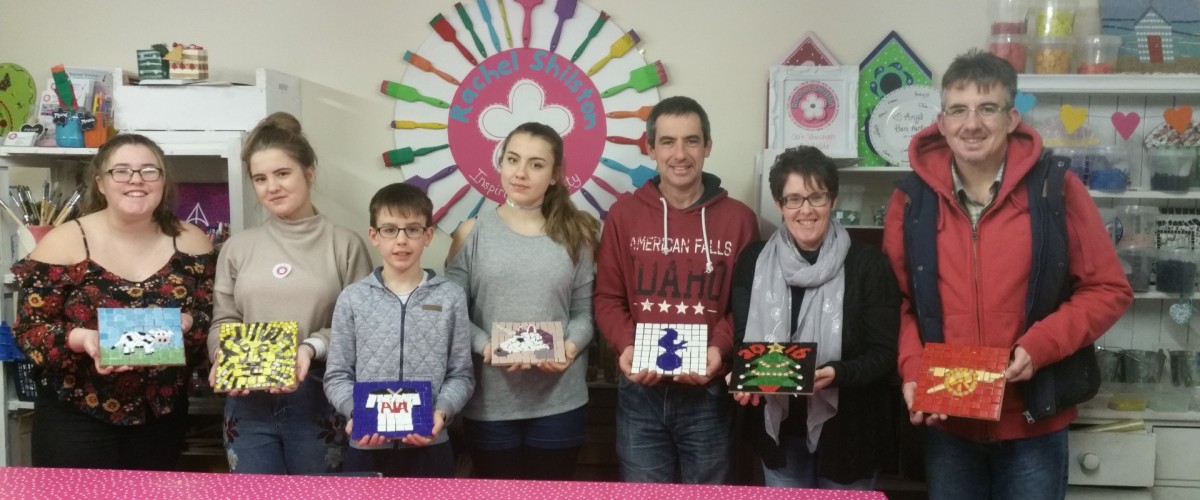 Like many people at this time of year, we had family come to visit over the Christmas period. The weather wasn't that great so we couldn't get out for a walk and blow the cobwebs away, so we decided to do something different. On a blustery Saturday afternoon, my husband, daughters, brother-in-law, his wife and children headed off to my studio, armed with a leftover chocolate log and teabags, for an afternoon of creative fun.
Despite seeing the countless mosaics I've made over the years, my husband and daughters, had never actually made one of their own before. In fact, my sister-in-law was the only person who had previous experience, as she'd had a one to one session with me earlier in the year and made a mosaic heart. So, Nicky was somewhat of a pro, but for the others, it was a completely new skill.
Prior to the session, they had each thought about the design that they wanted to create, something that would be achievable in the time and not too complicated. My studio can easily accommodate eight people so it was a perfect space for everyone to have enough room to work, have easy access to the materials, but also feel close enough to chat and have the all-important family time. Once the instructions were given, they quickly made a start on their designs. There was the initial reluctance from the kids, who, at first, envisaged that the tools and the sticking may be a little tricky, but they soon got the hang of it and were really chuffed as they saw their designs starting to take shape. In fact, it's the quietest I've seen them…..and not just the kids! They were all so focussed on what they were doing, but they also took the time to give each other support and encouragement. The time flew by, and after two and half hours, they had each completed their own individual keepsake mosaic, which reflected their interests and personalities. For a first attempt, they were pretty impressive too.
As they were staying with us, the next day I supervised a 'group grouting session' on the dining table at home. Normally, participants on my classes are given grouting instructions, plus all the materials they need to do it in their own time, as the mosaics are too wet to grout straightaway. It was great for me to see the grouting in action and to see the final finished pieces, as I only usually see the first stage.
I know they are my family and I know that I kind of like them anyway, but it was such a fun afternoon. It was so great to see that everyone made something they were proud of, had learnt a new skill but more importantly, spent quality time with each other. The age range was ten to forty-nine but that didn't matter as they were all engaged and focussed on creating their own little memory of the holiday. Happy Days!
Fancy it? If you would like to do something different one afternoon with your family, then why not give me a call. Projects can be tailor-made to suit the interests of your family and can be delivered as a collaborative project or as individual pieces. For more information just email me at info@rachelshilston.co.uk and I would be more than happy to put a session together for you. I look forward to hearing from you.
Oh! And if you'd like to see what they actually made, pop over to my Facebook page – there's a link at the bottom of this page.