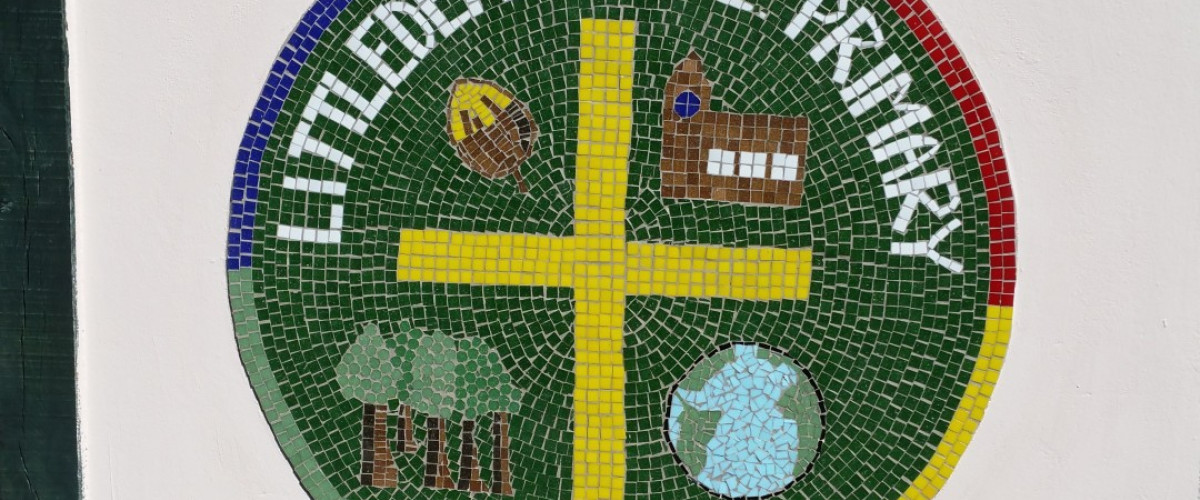 For the last couple of weeks, I've had the pleasure working with all of the pupils at Littledean C of E Primary School.
I was asked to come up with designs for a set of mosaics to brighten up the exterior walls to create a more welcoming appearance. My task was made easier as the school had just re-designed their logo, which provided a perfect design for one of the mosaic signs. Together with the head teacher, we decided that the Junior Department would help me construct this huge mosaic logo, measuring over four foot in diameter. The new logo is made up of images that represent what is important about the ethos of the school. It has a striking golden cross in the middle to symbolise that Littledean is a Church of England school. It has a series of trees, to signify the Forest of Dean – the locality of the school. It also has a globe, to stand for the school's appreciation of the world around them. The village church is also included and finally an acorn, to represent the strong link with the attached nursery called 'Little Acorns'.
Each pupil from years 3, 4 ,5 and 6 added their contribution to the mosaic, which took three days to make. Once dry, it was installed on a dull rendered wall which was also given a new lease of life with a fresh coat of paint. A very welcoming welcome sign for parents, pupils and visitors to enjoy!
(IMAGE)
The second set of mosaics were created by the Infant Department and were a little more crazy in their design! I showed the head teacher a similar mosaic I had created with children at St John's C of E Academy in Coleford, which was perfect for the two panels we needed to cover. We chose to create the panels in two colour ways, one as hot colours and the other in cold colours – with the view that the wall could also be used as a 'learning wall' in the future, when the infant children studied colour mixing and how colour can effect a mood.
I worked with Reception and years 1 &2 and we took two days to create the colourful circles, which also incorporated little squares of mirror to create a sensory element.
The two panels are now installed for the whole world to admire and the children are proud of the section they worked on.
(IMAGE)
A very professional job by such a young group of artists!
For more information about my other school projects, take a look at: http://www.rachelshilston.co.uk/schools