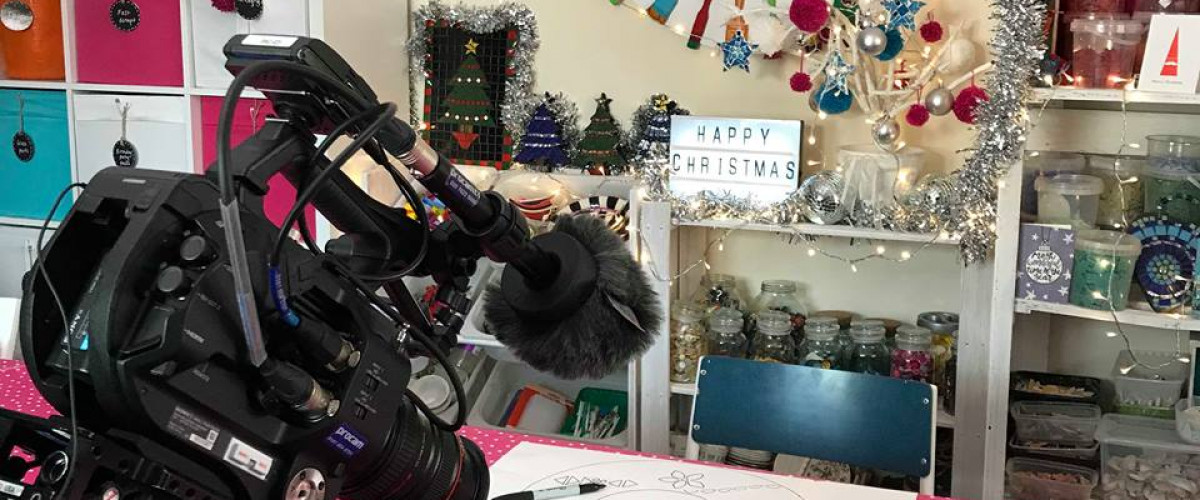 So, after I got the fantastic news that I was to be a Kirstie's Handmade Christmas finalist, I had to prepare myself for some backstory filming. This is when a member of the production team visited me in my 'crafting space', armed with a video camera and filmed and interviewed me for the show. My team member was the lovely Martin Connery, a director, who has worked on shows with Kirstie before, plus programs like Made in Cheshire. (I've never watched it but apparently, it's a docu-soap that follows very glamorous housewives in Cheshire.... not unlike the glitz and glamour of an eclectic artist from the Forest of Dean!)
Ahead of Martin's arrival, I was instructed to wear something Christmassy and to completely decorate my craft spaces with anything festive. So, up in the loft I went to arm myself with fairy lights, tinsel and baubles. And, despite it being a rather mild early-September afternoon, I wore a rather fluffy Christmas jumper – if you look very carefully, when the show is aired, you will probably see my face start to gradually redden from all the fairy lights and the snugness of my Christmassy sweater!
My studio was the obvious place for me to be filmed for my backstory, as that's where all my crafting, teaching and inspiring creativity takes place. Although I'd decorated the space with quite a bit of festive pizazz, it still wasn't enough for Martin and more and more tinsel got added before filming could start.
Once happy, Martin filmed me getting creative and I chose to create a mosaic robin. It felt so odd doing what I do but with the knowledge that I had a big camera filming my every move. I was so conscious that I may have a 'miserable thinking face' so I tried desperately to look cheerful while I worked even though I suspect it made me look like a complete muppet! If that wasn't enough, then came the interview. Whilst working on making my robin, Martin asked me lots of questions about my artform, what inspires me, what I think about Christmas and whether I wanted to win. I tried to answer as best as I could and as succinctly as I could, whilst looking all jolly and happy, and not the 'rabbit caught in head lights' like I felt!
Martin spent four hours with me in my studio, filming, interviewing and generally getting lots of interesting content for the show. Can you believe that this will be edited and my actual time on air will probably be about one minute!
After filming the backstory in my studio, I had to wait to hear when the big day of competition filming, with the other contestants and Kirstie, would be. I'll tell you more about my competition experience in my next blog!
Watch this space.