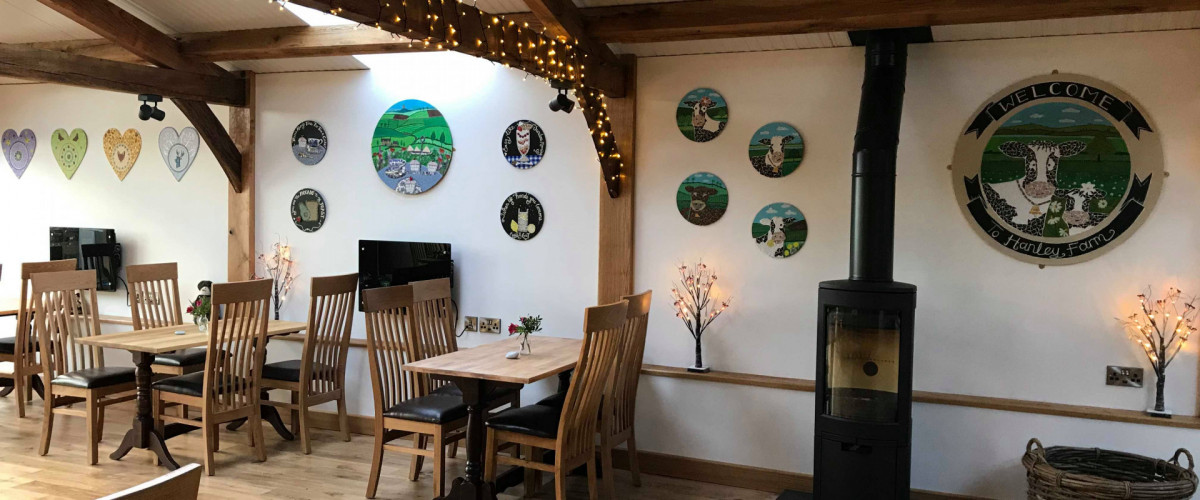 For those of you who don't know, I am situated in the business centre on the site of Hanley Farm, a picturesque farm shop at Tidenham, just on the Forest of Dean and Welsh border. I have been based there for three years, which, I can't quite believe…….. a whole three years running a business in my very own studio. Where does the time go?!
There are all sorts of businesses in the business centre, including a printer, physiotherapist and florist. We also have a land share scheme, where local people can grow their own veg on allotments and sell their produce in the farm shop, there is a dog hydrotherapy unit, plus last year the Liam Bond golf academy opened. We have an annual 'Open Farm Sunday', which is a nationwide event in June, where farms fling open their doors, or rather farmyard gates, and you get a chance to see behind the scenes of a working farm, from cows being milked to rides on the tractor. We also have a Christmas Market each year, showcasing local makers of crafts and food and I always like to have an open studio at these kinds of events, to meet the visitors.
Last week was another big development for the site, which saw the opening of a beautiful and cosy extension on the farm shop café. Before the much-needed extension, the seating was a bit limited and this popular lunchtime destination would fill quite quickly, resulting in many people not finding a free table and leaving disappointed. But not now! The extension has ample seating in the form of tables and comfy sofas, providing so much more space for hungry customers. And, what's absolutely amazing for me, is that the extension required artwork on the walls and, being the resident artist, I was only too happy to help. (I mean, you'd be daft not to have your art featured in a brand new, beautiful and welcoming space, wouldn't you?!)
I've been selective with the pieces I've chosen, to ensure they have the right 'feel' and add to the already perfect ambience. So, a selection of my 'Moo-saics' can be seen – these are a play on words and feature a selection of cow characters made from mosaic on cheerful, painted backgrounds. I also have some of my food-themed chalk board art on display, as the style seemed to compliment the farm shop's black and white boards used for their menus. You will also see a giant collaborative collage, made by children who visited the Open Farm Sunday in June 2015. Each child added their contribution to create the piece and helped with painting the background, making leaves and paper poppies to create a striking farmyard scene. And finally, a welcome sign, featuring Daisy and Matilda, (the Hanley Farm Shop cows) that was originally made for the Event's Room next door, has been hung in the new extension, which, even if I do say myself, looks udderly amoozing in its new home!
I'm so delighted to have my pieces showcased at this beautiful café but also, I am so grateful to have the opportunity to work on the site of Hanley Farm – it really is a special place. Please go and visit soon, you won't be disappointed and if you do like any of my artwork on show, then all pieces can be made to order.