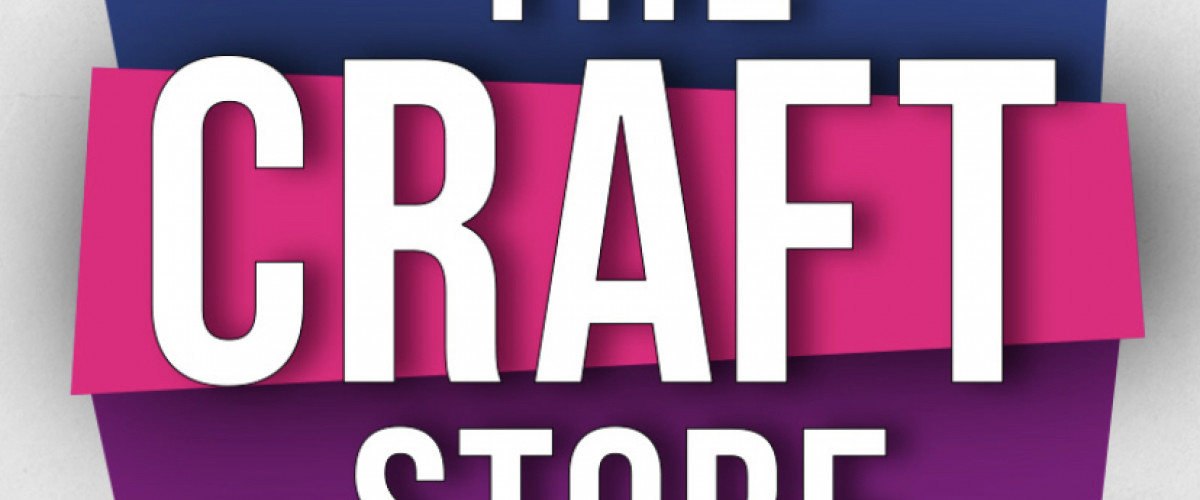 If you're a Facebook liker, Instagram follower, friend or member of my family, you will know that on Wednesday morning at 9am, I was on a shopping channel called 'The Craft Store'. You'll know because I've gone on and on about it to anyone who would listen. But, if you're not one of those people listed, you may not have realised, so I thought I'd write a little blog to tell you all about my shopping channel experience.
So back in January I contacted 'Hochanda', (in recent weeks they've rebranded and are now called 'The Craft Store TV') I just emailed asking if they fancied featuring my mosaic kits on their show and, the short answer was, yes they would! So since then, there's been a lot of background work, prep and paperwork to fill in, to get to the point of a show date, which was this Wednesday (14th April). I was allocated the lovely Helen as my buyer, who guided me through the whole process and helped me get my kits and stock 'show ready'. She was so supportive and absolute joy to work with.
Now, if, like me, you've not really watched many shopping channels, you may have a preconceived idea of what they involve. I certainly did. I thought all the presenters looked orange through overuse of fake tan and that it was all about selling things like cheap food mixers and dodgy replica jewellery like the late-Princess Diana's engagement ring. I think there are channels out there that do stuff like that, but The Craft Store is ALL about craft, art, making and getting creative. Right up my street – so that's why I thought I'd try it as a way of reaching more potential customers. Nothing ventured, nothing gained – right?
The studio is based in a little town called Oundle near Peterborough and my call time was 8am in the morning, so it meant travelling up the day before and staying in a hotel. On the day of my show, I was met in the foyer by Helen and was introduced to Chris the Director and Sam the Producer. They took me to the studio, talked me through the process, covering things like which camera to look at and where to position things when doing the demo. Prior to my show, I had sent sample mosaic kits into them, so they were already on display. I had about twenty minutes to set up my workspace so laid out all the things I needed for the hour-long show. I then went through to the sound department and got 'miked up', which was interesting when I went for a wee and it was turned on – ooops.
I was then introduced to my presenter, Adam - a fun, enthusiastic, inspiring and knowledgeable fella. It's Adam's job to sell the kits, seek out possibilities and ways to make the product you have on offer completely irresistible to the viewers and something you simply can't live without. He makes it so easy, with his natural gift of the gab. We took our places behind the desks and the producer started to do a countdown until we were live on air. It was then the nerves kicked in – it suddenly became real but, I have to say, as soon as we did go live, the little jitters I did have evaporated and the hour long show absolutely whizzed by.
We started by chatting briefly about mosaic and how I got into it, then it was straight into talking about the kits. On this show I was demonstrating my basic range, as those designs are perfect for beginners and anyone not sure about mosaic making. It turns out that mosaic has not really featured on the shopping channel much before, so it was definitely a case of easing the viewers into this new craft as many of them are more fans of paper and needle work. Mosaic is a very different medium, but I know through experience, that once people dabble, they get absolutely addicted. To be honest, mosaic should really come with a health warning.
Once we went through all the kits, it was time for me to demonstrate, so I chose the rainbow to kick off with as this has been so popular through lockdown, especially with links to the NHS and key workers. I talked through key things to consider, like spacing, getting the tiles around the right way and how much glue to use etc and didn't need to demonstrate the whole thing as, I had 'one that I'd made earlier' – something I just could not wait to say…..After all, I've ALWAYS wanted to be a Blue Peter presenter!
I talked through the grouting process and, as I stood there holding a bag of white powder, suspiciously looking like a bag of cocaine, I did feel the need to explain, at 9.30am live on the telly, that I don't run a drug cartel. To which Adam nearly passed out and joked that he thought this could be the end of his shopping channel presenting career. Another Rachel classic.
I went on to briefly demonstrate the pendant and beach hut too, but again, didn't need to do the whole thing as I had ones that 'I'd made earlier'. I loved talking to camera and explaining the process. As a workshop facilitator, I am almost acting in a way – I have a word-perfect script that I repeat time and time again to my participants, so explaining things didn't really phase me. The time went by so quickly and before I knew it, Adam was thanking me for coming on the show and we talked about what I might bring along next time.
Afterwards, I had a debrief by the Director and Producer, who generally were pleased with my performance, but also gave me some little tips to consider next time. Then that was it! It was just a case of waiting to see how many kits I had sold. It really was great fun, I absolutely loved it and can't wait for my next visit to Oundle and the Craft Store TV studio, so watch this space, coming to a TV set near you soon!
If you missed my show, you can watch it back by going to the Craft Store website, at
https://www.thecraftstore.com/rewind and type in Rachel Shilston to the search bar!