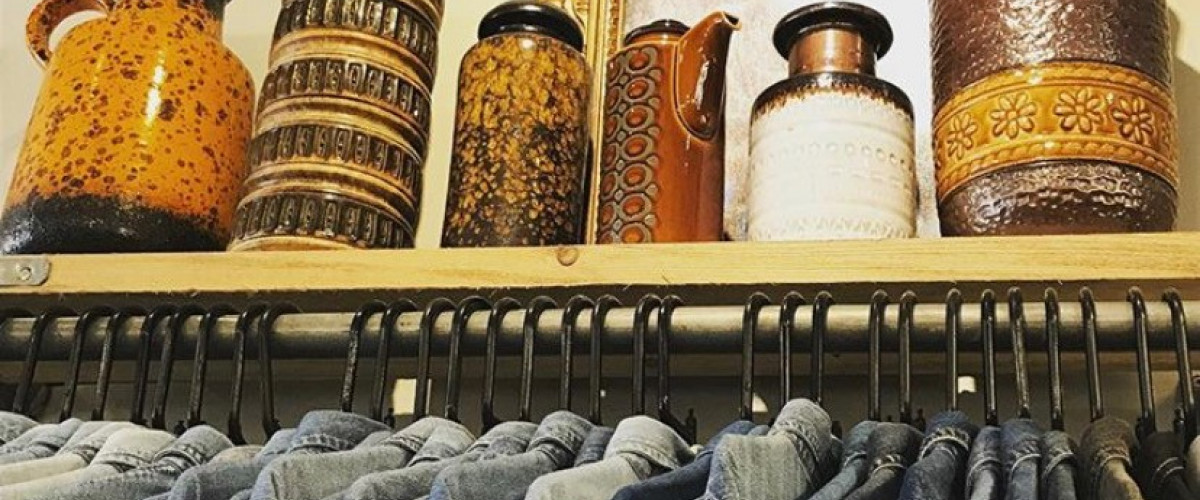 Retail therapy? I'm not entirely sure that those two words even go together. I have to admit, I've never been one to head straight for the local Mall after pay day, to blow my whole monthly wage cheque on the 'must-have' fashion or latest gadget in the big corporate chain stores. I can't say I've ever been one to wear top to toe designer labels or famous fashion brands. Now don't get me wrong, I will buy occasional pieces that will last, such as my Dr Marten boots or my Converse trainers, but I rarely spend the whole day in a retail environment in search of therapy, in fact that's my idea of hell on a stick. Back in my 'office worker' days, (I used to work for a well-known publisher), I'll always remember a colleague proudly wearing a shirt to work and telling me how much it had cost her and all I could think was that I could get a whole outfit for the same price and still have my bus fare home!
Now put me in a vintage market, thrift store or charity shop and it's a different story. I'm not entirely sure what it is about rifling through other people's cast offs that I find so appealing, but I simply cannot resist a rummage and the thrill of finding a quirky bargain or two. You know what they say – one man's rubbish is another man's treasure but if I really think about it, it's the fact that it's not mainstream or the same as everyone else that is the big appeal.
I can't really pin point exactly when I first got introduced to the notion of buying second-hand, but I suspect it probably goes way back to my childhood and all those school jumble sales that I went to. I still remember the thrill I used to get buying things off the bric-a-brac stall with literally pennies and feeling like I'd struck it lucky when I bought a little retro ornament for just 10p. I still love mooching around antique shops and house clearance stores, looking for unusual finds that I can give a home to or furniture that I can transform with a lick of paint.
However, I think my love of buying and wearing second-hand clothes stems from when I was eighteen and studying A-levels. My boyfriend at the time, introduced me to a cool shop called Uncle Sam's on Park Street in Clifton (Bristol), which was established in 1984 and even today is still a popular store to pick up some retro thrift. I vividly remember buying an olive green cropped wool jacket that had ornate stitching on the front and looked like a European military uniform (I so wish I still had it!) There was always a quirky vintage treasure in that store and I loved the vibe. My daughters and I also love Sobeys on Park Street too - we can spend hours in there! After A-levels, I went on to study in Manchester and of course made many trips to Affleck's Palace, another treasure trove of vintage finds, set in an old building with several floors in the Northern Quarter of the city.
That love of a second-hand bargain has stayed with me ever since and in this modern age, is that a bad thing? The world is full of discarded and unwanted things that still have so much life left in them and just need a little bit of love. More often than not, these things end up going to the landfill, so, the more we can recycle and repurpose has got to be a good thing for the sake of our planet, right? In some small way, I hope that my second-hand purchases not only raise important pennies for that particular charity, but it also prevents that item from ending up in a hole in the ground somewhere.
Now, don't even get me started on how mosaic making, especially out of vintage plates and crockery, also plays an important part in the recycling story. I think I'll save that for another blog.