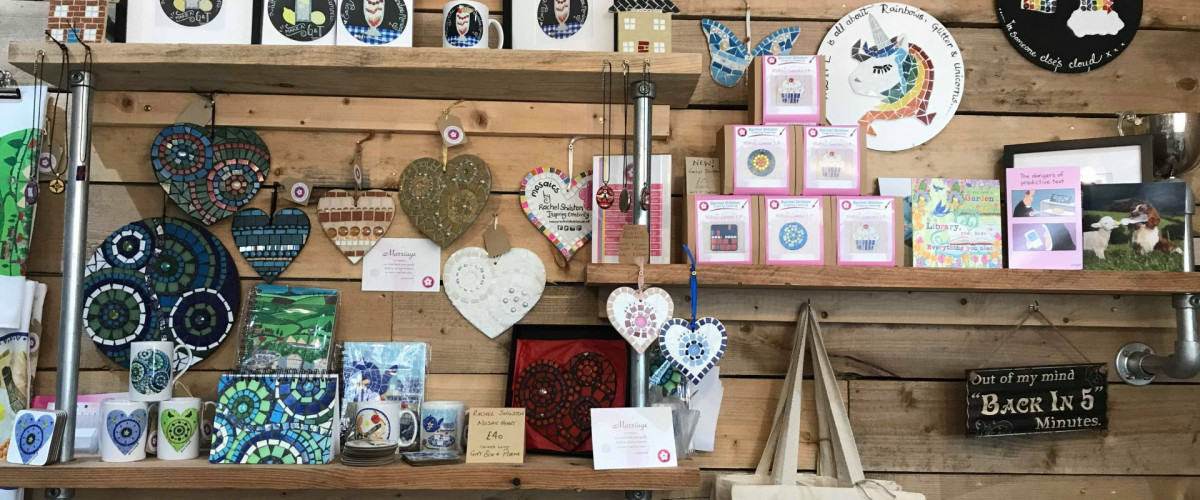 The aim of my studio at Hanley Farm Business Centre, is to provide a hub of creativity and to inspire the participants on my classes – so naturally there are quite a few mosaics dotted around. Recently, I've had several enquiries from visitors to my studio wanting to buy my little samples, but as they are an essential part of my teaching process, I can't sell them. In the past, when people have wanted to buy my examples, I just tell them they need to come on one of my classes and then they can make their own! This does work sometimes and I've picked up a few extra participants this way, which is lovely, as there's no better way to own a piece of art than when you've taken the time and effort to create it yourself.
However, the world is changing. People are time poor and we are all increasingly busy these days, either with work schedules, kid's clubs or other commitments. (I know that I spend a great deal of my spare time ferrying my two girls around in 'Mum's Taxi'.) Sometimes, it's not always convenient for people to join me on a class to learn the skills needed to create a mosaic. It seems that some people, when they've seen my mosaics sat in my studio, want two things; the ability to support local and also to purchase the item straightaway – they don't want to sign up for a class in a few weeks' time to make one. So, this got me thinking. Perhaps I should make some of these examples to sell? It is not entirely unfamiliar territory to me, I did used to dabble in making bits to sell at craft fairs and things, but never really did it with must gusto. However, as a business owner, you must listen to your tribe and be influenced by what they say and it seems that there are a few people out there that would like the opportunity to buy an 'off the peg' Inspiring Creativity mosaic!
So, over the last couple of weeks, I've been beavering away and have made some mosaic products to sell. They won't be available to buy in my studio, as the nature of my work means I'm not always 'in residence' and I wouldn't want people to have a wasted trip. So, I've selected a local shop called 'Moot', a beautiful home and garden outlet in Coleford, to trial them for me. Moot is run by Vicky Morgan, a former garden designer, who is passionate about showcasing the work of local artists and designers. Her well-laid out shop has a wide range of beautiful home and garden accessories and some perfect gift ideas. My first batch of products were delivered to her yesterday and they are now displayed in the perfect location, just behind the counter.
If selling my mosaics proves popular, I will go on the hunt for more local outlets and I will also re-instate my 'Shop' on my website (www.rachelshilston.co.uk ), so there will be lots of ways to buy one of my products. I'm really looking forward to developing more of my own designs to sell and would welcome suggestions of themes you'd like to see created in my mosaic style. If you see something you like but fancy a different colour, then just shout – I'm more than happy to create something especially for you. However, please give me a couple of weeks' notice as the mosaic process is quite a time-consuming one!
And, if you do get chance to have a moot in Moot, then let me know what you think of my bits and pieces! You can find Moot at 18-20 St Johns Street, Coleford in the beautiful Forest of Dean. Pop in and say hello to Vicky – you will be assured a warm welcome.