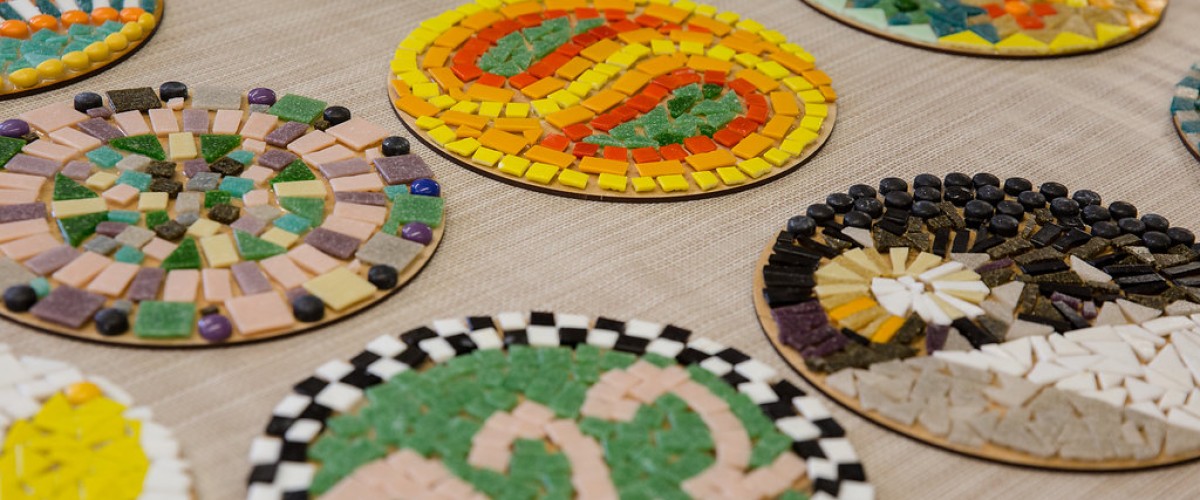 For those of you who don't know my background, I gained a BA honours degree in constructed textiles and then, from 1995 to 1996, I trained as a secondary school art teacher. I've led on all sorts of art and craft projects over the years, but the one that is probably my favourite to facilitate is mosaic.
Mosaic has been around for centuries. The Romans loved the technique and literally covered their floors and walls in the stuff. Cirencester, was a popular stomping ground if you were a Roman and they even had their own special name for it, referring to the settlement as 'Corinium'. The modern day town has heaps of Roman history and its museum houses some impressive mosaic displays. When I visited, I was completely blown away by the intricate details and the high level of skill in the mosaic artwork but I must admit, the Roman way of doing it wasn't really my cup of tea. Although I admired their craftsmanship, I found the colour palette quite limited, relying on natural materials such as stone, flint and pebbles to form the design. The subject matter, was also a bit dull, many displaying fruit, or the head of a goddess and their surfaces were also pretty uniform and flat – something I guess, was quite essential if it was going to be placed on a floor of a Roman villa. (As a Roman mosaic artist, I could quite imagine you'd be sent to the lions if you didn't produce a smooth surface, as I'm sure Julius Caesar would not be that chuffed if he stubbed his toe on a wonky pebble.)
So although I knew the technique existed, I didn't really explore it that much as a topic to teach. It wasn't until about 2010 that my view about mosaic changed. I went to the Brewery Arts Centre (coincidentally also in Cirencester) to see an exhibition by the mosaic artist called Cleo Mussi and all my pre-conceived ideas of what a mosaic should look like were challenged. These creations were colourful, textured, bold, quirky shaped and just looked like the artist was having a whole heap of fun! After that exhibition, I was completely inspired and started to dabble, teaching myself the basics and before long, mosaic became one of my most popular art forms to facilitate.
Recently, I've been thinking about why it's become so popular and the reason for this is simple. Mosaic is the perfect medium to connect a whole community, especially if it's delivered as a whole-school art project. Mosaic allows people of all ages to contribute, with children from as young as four easily and safely adding their bit, so the project becomes inclusive throughout the school. It also allows participation to extend to the staff too and the teachers, assistants, lunchtime supervisors, governors and even the school vicar can add their piece, allowing everyone to feel involved, valued and part of the project. It is not gender specific and it does not require previous experience. Furthermore, mosaic can be made for the indoors, outdoors, walls or floors. It can represent the schools logo, Christian values or areas of the curriculum, adding a permanent colourful feature, that won't fade over time.
However, mosaic is not just for large groups to collaborate together. It is also an art form that can be created by the individual and is again, by far, the most popular subject I deliver in my studio. I find participants are completely drawn into the mosaic process, many commenting on how 'therapeutic', 'absorbing' and 'relaxing' it is. There are endless possibilities and skills that mosaic offers and that's why I love it so much.
Want to know more? Take a look at my website at www.rachelshilston.co.uk for examples of some of my previous work and if you'd like to discuss your ideas further, then email me at info@rachelshilston.co.uk . I'd love to hear from you.